Did you know that one of our newest (and coolest!) projects was featured on Mashable? Check out what they had to say about the Arctic Cold Brew Coffee System!
Last year, with the help of over 10,000 coffee lovers around the world we launched the Arctic - it was our first ever crowdfunding project on Kickstarter and Indiegogo.
Thanks to all of the support that we received, the Arctic became one of the most funded cold brew coffee in crowdfunding history!
This was the one of our most humbling and rewarding experiences to see all of the support we had from our supporters around the globe and our some amazing publications: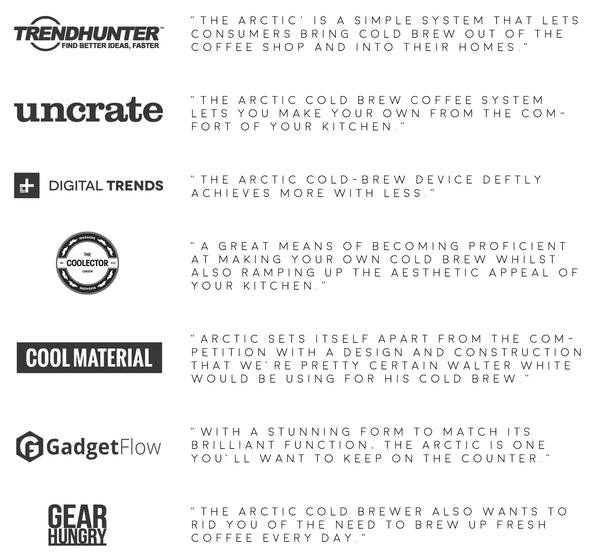 This really inspires us.
Coffee plays a big part in our lifestyles and we're always on the lookout for ways to make it even better. As we continue to grow on our own coffee journey, we'd love to share our experiences with you along the way!
If you want to stay informed with what's happening in the ICOSA Brewhouse community – including best kept secrets on coffee brewing tips, tricks, and original recipes that have been brewing up in our kitchen–then like our Facebook page and be sure you're subscribed to our newsletter.
So stay tuned!
Cheers,
Johnny, Vance & Vince
The ICOSA Brewhouse Team
Coffee isn't just a drink. It's a lifestyle.
You might also be interested in...