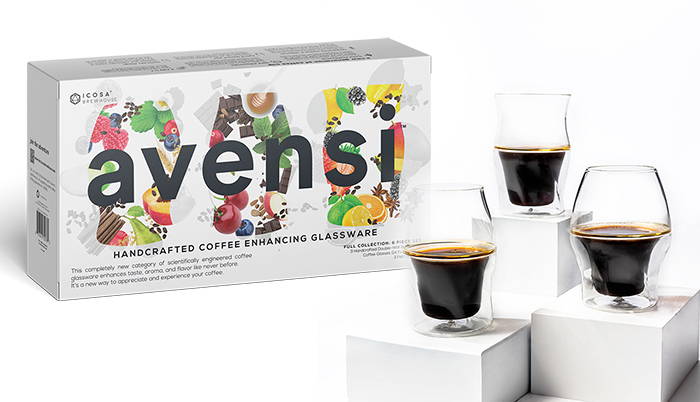 Tasting notes with coffee: When you want to really concentrate a coffees aroma and increase the body sensation, the grab for the Vida. This glass intensifies the already intense fruity and floral aromas of the naturally processed Ethiopian coffee. On the nose is the sweet smell of berries and honeysuckle. The body is heavy, and reminiscent of a fruity red wine, like a Syrah or Zinfandel. The finish chocolate covered blueberry, cognac, and black tea.
Coffee Pairing: El Salvador
Tasting notes with coffee: The Senti is great at opening up aromas, but then holding onto them for longer in the glass. It compliments the nutty and chocolatey profile of the El Salvadoran coffee very well. On the nose are the inviting soft aromas of almond, vanilla, and honey. The body is mild and juicy, with tame acidity reminiscent of red apple. The aftertaste is pleasant, leaving behind flavors of chocolate and graham cracker.
Tasting notes with coffee: The Alto is all about opening up the aromas, and spreading them out over the palate, creating an equal balance of mouthfeel and aroma as you imbibe. The Sumatran coffee really comes alive in the Alto, allowing the crisp body and bright red bell pepper acidity to shine. As you first first take a sip you a struck with notes of sandalwood and cinnamon, then comes the acidity and lemongrass mid palate. The aftertaste is quite complex, transition from piquant oriental tobacco to dried potpourri of flowers and citrus.
You might also be interested in...